02 – Tracking changes in Word
To track changes in Word is a feature that facilitates the work of several people on a single document where all participants can see who, when and how changed the document.
Word change tracking is triggered through menu Review - Track Changes.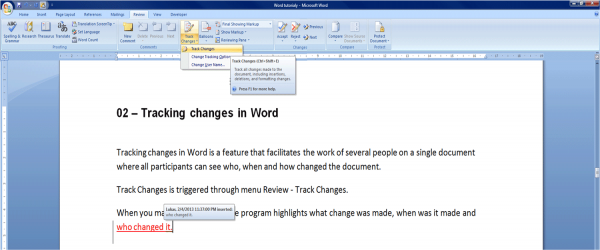 If you make any change to the program highlights what change was made, when was it made and who changed it.
In the menu Review - Baloons can be set how we want to see change.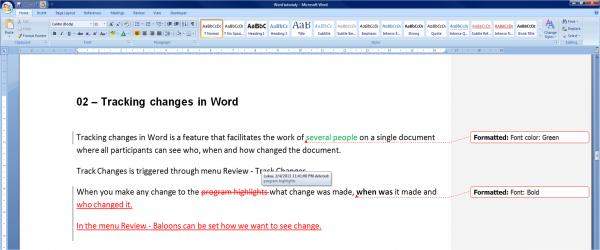 - The first option displays all changes inside the notes on the right of the document,
- The second option displays all changes in the body of the document,
- The third option in notes displays formatting changes (change text colors ...) and changes as adding or deleting text appears in the body of the document.
In the Review menu - Show Markup it is possible to choose what kind of changes we want to see, if we want to see all changes or only changes in formats, adding and deleting text, etc. ...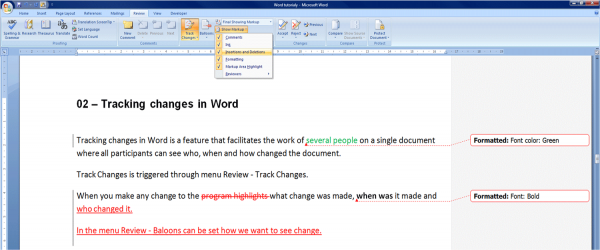 Menu Review - Reviewing Pane displays ether on the left side of the document (or the bottom of the document) a window with the list of all changes.
After all revisions are made through options Accept or Reject a particular change can either accepted or rejected and thus the document can be quickly modified into the final shape.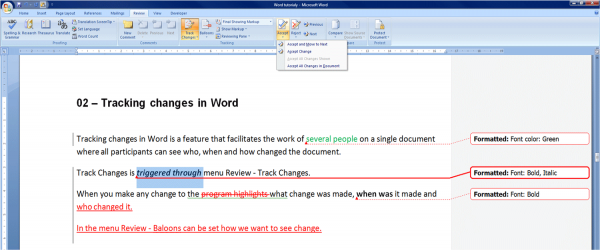 This tutorial brought an overall idea how to track changes in word a very useful function which simplifies work of more people on the same document.