01 – Making notes in Word
Making notes in Word is very handy if several people are working on the same document, if you need to correct document after somebody or if you are making some manual, instructions, or textbook.
Adding coments in word is done through the menu Rewiews - Comments by marking the text to which you want to add a note.
At the right site of the document has been activated an area where all the notes would be stored.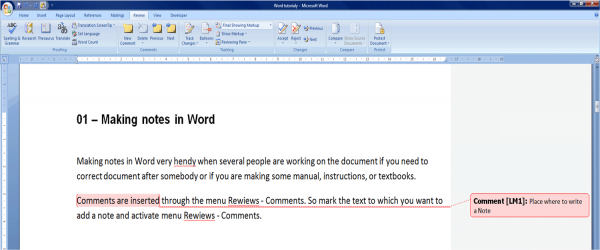 After placing a larger text into a note it is possible to activate a window on the left side of the document that opens the whole content of the note so you can store quite long text or definitions inside. 
By placing the mouse cursor over the note the preview is displayed.
This word tutorial explained how to insert notes in word. We hope that you have enjoyed it.