15 - Excel document protection
Tutorial explains how to protect Excel document at several levels, how to set password protection and how to unprotect Excel as well.
Protecting Excel document is an important and useful Excel feature in case you dont want anybody to modify or reproduce your content.
When the Excel password protection is activated document is available in Read Only mode and thus unauthorized user is not able to make any changes. Unlocking the document is possible by setting a document password which can be sent to selected users who should have rights to edit the document.
There are several levels of document Excel protection:
- Worksheet protection
- Document structure protection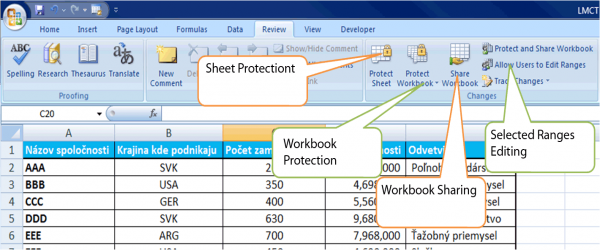 In the case of Excel sheet protection it is necessary to specify which actions would you like to lock. In this step you can also set protection password.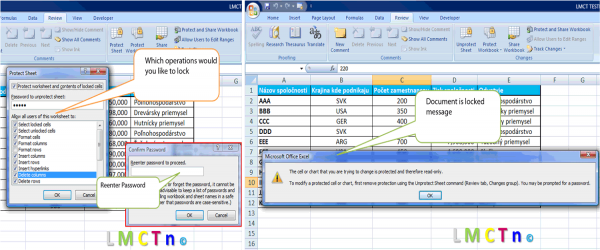 To unprotect Excel worksheet click on Unprotect Sheet button and entering password.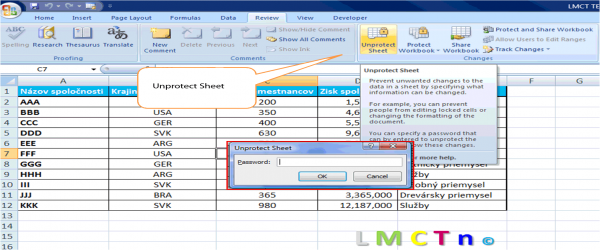 You can also allow users to edit only selected areas or cells. This option is launched through menu Review - Alow Users To Edit Ranges where you specify which areas you want to unlock.
Another option how to lock excel is document structure protection which prevents user from making any structural changes such as adding or moving sheets or windows. This option is launched through menu Review - Protect Workbook, where you specify what exactly you want to lock and you set the password to unlock the document.
Document is unlocked the same way as in previous case via menu Review - Unprotect Workbook
Všetky príspevky v tejto kategórii: