09 - Fixing cells while copying formulas in Excel
This tutorial introduces how to copy formulas in Excel and how to fix cells while copying. 
Formulas are copied by pulling a small square in cell corner, or by double clicking it. The other ways how to copy formulas is using shortcuts CTRL + C and CTRL + V or shortcut CTRL + D or CTRL + R.
If you are using formulas is essential to understand the logic how to fix cells in Excel while copying.  Cells are fixed by the dollar sign $ or by pressing F4.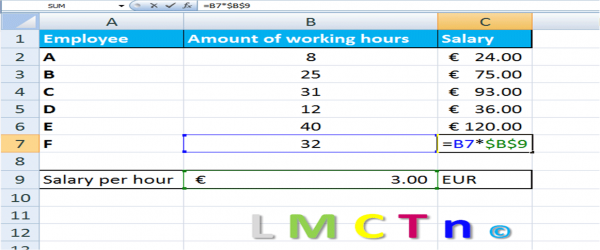 From the Print Screen we see that in the formula cells B2 to B7 are changing while cell $B$9 is fixed.
This kind of Excel  fixed cell is used when we have a fixed variable in the formula (constant).
For example, if we want to calculate the salary of employees for a week the formula would look following.
Employee 1: = B2 * $B$1
Employee 6: = B7 * $B$9
- cells B2 to B7 represent the amount of hours that the employees have worked and
- $B$9 represents the hour salary which is the same for each employee. 
$A5 - fixes column so if we copy a formula horizontally (to the right) the Column A in the formula remains unchanged whereas if we copy the formula downwards the line value in the formula is changing ($ A6, $ A7 ...)
A$5 - fixes row so if we copy the formula vertically (downwards) row 5 in the formula remains unchanged whereas if we copy the formula to the right the column value is changing (B $ 5, C $ 5 ..)
All articles in this category: